Sara Goldsmith Schwartz, William E. Hannum III, And Anthony L. DeProspo, Jr. Named To 2019 Super Lawyers® List; Brian B. Garrett, Sarah H. Fay, And Jacqueline M. Fogg Named To 2019 Rising Stars®
Schwartz Hannum PC is thrilled to announce that three attorneys have been named to the 2019 Massachusetts Super Lawyers® list, and three have been named to the 2019 Massachusetts Rising Stars® list.

Sara Goldsmith Schwartz and William E. Hannum III have been selected for inclusion in the 2019 Massachusetts Super Lawyers® list in the area of Employment & Labor Law. They were first acknowledged by Super Lawyers® in 2004. Anthony L. DeProspo, Jr. has been selected for inclusion in the area of Business Litigation. He was first acknowledged by Super Lawyers® in 2012.

Brian B. Garrett, Sarah H. Fay, and Jacqueline M. Fogg have been selected for inclusion in the 2019 Massachusetts Rising Stars® list. This is the first year Brian and Jacqueline have been named to the Rising Stars® list. Sarah was first acknowledged by Rising Stars® in 2017.

Schwartz Hannum PC is proud of its Super Lawyers® and congratulates each of them on this achievement. We also extend our congratulations and gratitude to the entire Schwartz Hannum PC team for their part in this achievement through their continued hard work and excellent client service!
* * * *
Brian B. Garrett Named Partner Of Schwartz Hannum PC
Schwartz Hannum PC is thrilled to announce that Brian B. Garrett has been named a Partner of the Firm.

Brian is a member of the Firm's Education and Labor and Employment Practice groups. He has extensive experience in a broad range of education, employment, and complex commercial litigation matters throughout the country, including in state and federal courts, in alternative resolution processes, and before various administrative agencies.

Brian focuses his practice on understanding and serving the needs of independent and boarding schools, colleges and universities, and early child care programs. Brian partners with many of the country's leading independent and boarding schools to provide comprehensive advice on all aspects of school operations, including establishing new schools, student and parent issues, employment matters, school governance and leadership, and general risk management. He works closely with board chairs, heads of schools, financial officers, and other senior leadership members in tackling complex matters affecting school communities.

Brian advises clients on the full spectrum of student- and parent-related issues, including crisis management and student safety, disciplinary matters, responding to and investigating student interpersonal misconduct, accommodating applicants and students with disabilities, handling complex student mental health matters, supporting transgender, gender non-conforming, and LGTBQ students on campus, and managing challenging parental comportment issues. In the employment context, Brian guides clients with respect to issues involving hiring and on-boarding employees, wage-and-hour compliance, establishing and maintaining appropriate professional boundaries, performance management, and risky terminations. Brian also assists clients with the myriad compliance documents such as enrollment agreements, offer letters and employment agreements, student/parent handbooks, employee and faculty handbooks, trip permission and release forms, student health audits, separation and settlement agreements, and drafting various additional policies and authorizations.

Brian routinely travels to schools, professional development seminars, and school conferences nationwide to speak and provide training and workshops for faculty, staff, and senior leadership. Brian facilitates trainings on topics including establishing and maintaining healthy and appropriate boundaries, child abuse and neglect reporting, conducting thorough investigations into student and employee misconduct, operating safe school campuses, and other issues unique to the private school setting. He has extensive experience guiding investigations of and responses to allegations of sexual abuse and other sexual misconduct allegations.

Brian has advised and represented institutional and individual clients from a wide range of other industries, including restaurants and food services, technology, finance, and health care. He has defended clients in matters involving discrimination, harassment, whistleblowing, wage and hour laws, trade secrets, breaches of non-compete or other restrictive covenants, and labor disputes, including election campaigns and unfair labor practice charges. He has considerable experience advising clients on the drafting and enforceability of post-employment restrictions.

Prior to joining the firm, Brian was an associate for four years at Sheppard, Mullin, Richter & Hampton LLP's New York office. Prior to becoming an attorney, Brian worked for five years as a center and masters' program coordinator at Harvard's Kennedy School of Government and Graduate School of Education. Brian received his B.A. from Boston College, his M.A. in Higher Education from Boston College, and his J.D., cum laude, from Fordham Law School.
* * * *
Schwartz Hannum PC Successfully Defends Independent School In Wi-Fi Litigation: First Circuit Issues Significant Decision On Enrollment Agreements And Student Handbooks
The Firm successfully defended an independent school against claims by a student that he was harmed by the School's wireless internet network ("Wi-Fi"). The student and his parents sought accommodations that would have required the School to remove or disable its Wi-Fi. The School declined the student's requests because there was no causal connection between the School's Wi-Fi and the student's alleged electromagnetic hypersensitivity. The student and his parents then filed a lawsuit in federal court, alleging claims under the Americans with Disabilities Act and common law claims.

PROCEDURAL HISTORY

After extensive discovery and nine days of expert hearings on causation related to the alleged "Wi-Fi allergy," the School moved to exclude Plaintiffs' experts from testifying and moved for summary judgment on all claims.

In September 2017, the United States District Court excluded two of Plaintiffs' experts and dismissed all of Plaintiffs' claims except for the Title V retaliation claim. In June 2018, the Court granted the School's motion for judgment on the pleadings and dismissed Plaintiffs' retaliation claim, thereby dismissing the entire suit. The Court held that Plaintiffs' retaliation claims were moot because the student had commenced ninth grade at another school and the School only extends to ninth grade. Plaintiffs then appealed.

THE FIRST CIRCUIT DECISION

The First Circuit appeal focused on a matter of first impression: whether damages are available under Title V of the Americans with Disabilities Act in the context of a public accommodation claim. The First Circuit found that only injunctive relief is available, and that damages are not available.

Significantly, the appeal also resolved the Plaintiffs' common law claims for alleged breach of contract and misrepresentation based on the School's Student Handbook. As the First Circuit explained, the enrollment contract (if properly drafted) is the sole contract between the family and the School. The Student Handbook (if properly drafted) does not create a contract between the family and the School.

In so finding, the First Circuit specifically noted that the enrollment agreement recited that the Student Handbook "does not constitute a contract," and the First Circuit relied upon this enrollment agreement language in rendering its decision in favor of the School.

In sum, the Court recognized that the School's enrollment agreement was drafted as an enforceable contract, while the Student Handbook was purely aspirational and not contractual. This is an excellent result for independent schools, and a reminder of the importance of having a well-drafted enrollment agreement and student handbook.

On July 17, 2019, the United States Court of Appeals for the First Circuit affirmed the judgment for the School on all counts, finding entirely for the School.

The First Circuit opinion is available here. A recent article about the legal significance of the First Circuit Decision, by Massachusetts Lawyers Weekly, is available here.

In February of 2019, Sara Goldsmith Schwartz argued this case at the First Circuit. The oral argument can be heard here.

Download the Massachusetts Lawyers Weekly article
Download the First Circuit Opinion
* * * *
Laura Deck Stones Joins Schwartz Hannum PC
Schwartz Hannum PC is thrilled to announce that Laura Deck Stones has joined the Firm's Labor and Employment and Education Practice groups. Laura provides counsel and representation to businesses and independent schools in litigation and all aspects of the employer-employee relationship.

She advises clients in employment matters including employment disputes, claims of discrimination and harassment, employment agreements, investigations, and wage and hour disputes. She counsels clients in federal and state labor and employment laws, including employee handbooks, criminal background checks, hiring and terminations, and employment agreements.

Prior to joining the Firm, Laura served as an attorney-adviser with the Office of the Legal Adviser at the U.S. Department of State in Washington, D.C., where she provided counsel on matters related to congressional oversight, including investigations by the U.S. House of Representatives Select Committee on Benghazi, the House Oversight and Government Reform Committee, the Senate Judiciary Committee, and the Senate Homeland Security and Government Affairs Committee. In addition to her work on congressional investigations, she advised on the handling of sensitive and classified information, federal recordkeeping and transparency requirements, and labor and employment law. Prior to her federal service in Washington, she was a labor and employment associate at Proskauer Rose LLP in Boston, MA.

Laura received her J.D. from Vanderbilt University Law School where she was Article Selection Editor of the Vanderbilt Journal of Transnational Law. Laura holds an M.A. in Security Studies with a concentration in U.S. National Security from Georgetown University's School of Foreign Service, and a B.S. in International Relations and History from the London School of Economics and Political Science.
* * * *
Schwartz Hannum PC Ranked In Chambers USA 2019; Sara Goldsmith Schwartz And William E. Hannum III Recognized As Leading Lawyers
Schwartz Hannum PC is thrilled to announce that Chambers USA has ranked Schwartz Hannum PC in Band 4 for the Labor & Employment – Massachusetts practice area. Schwartz Hannum PC is the only woman-owned law firm (and the only suburban-based firm) recognized by Chambers USA in the Labor & Employment – Massachusetts practice area.

One Chambers commentator said "the individuals' expertise is a strength, but they combine that with a firmwide team approach to client service which is refreshing." "This is the primary firm I use for labor advice," reports another client. "My experience with the firm has been very positive. Billings are transparent and I am receiving high-quality legal advice at an acceptable fee." "I think it is an exceptionally well-structured small law firm," comments another source. "The team does a good job of handling our various teams. They're able to make people feel comfortable and understand the object."

Chambers USA has also recognized Sara Goldsmith Schwartz and William E. Hannum III as leading attorneys in labor and employment law in Massachusetts. This is the fourteenth consecutive year that Sara has been honored, and Will's eighth year being acknowledged by Chambers.

Chambers USA 2019 reports that "Sara Goldsmith Schwartz's prowess in the labor and employment space has earned her a loyal client base in the education sector, while she is also a prominent name in industries as diverse as retail, food and financial services. Sources say that she is 'very well regarded' in the Massachusetts market."

"William Hannum is highlighted for his expertise in employment disputes, workplace investigations, labor relations matters and union avoidance, most notably with respect to the education sector. Sources affirm that he is 'very responsive and very willing to work with in-house counsel.'"

The rankings, which are determined by a rigorous process that includes a detailed written submission by the Firm and in-depth, objective research and interviews, were published in the recent Chambers USA 2019 guide. Chambers and Partners publishes guides worldwide, and has been a recognized leader in its field since 1990.

* * * *
Schwartz Hannum PC Recognized As SHRM Recertification Provider

Schwartz Hannum PC is thrilled to announce that it has been recognized as a Recertification Provider by the Society for Human Resource Management (SHRM). As a result of this certification, SHPC's webinars, seminars, and Boot Camps are eligible for Professional Development Credits (PDCs), as they relate to the SHRM Body of Competency and Knowledge (SHRM BoCK™). SHRM Certified Professionals (SHRM-CP®) and SHRM Senior Certified Professionals (SHRM-SCP®) are eligible for PDCs.

SHRM certification is the only HR certification offered by the world's largest HR membership organization, and is applicable across industries, geographic borders, job responsibilities, and career levels. As the industry leader in HR professional development, SHRM has supported more than 100,000 employers representing 140 million employees worldwide.
About SHRM
The Society for Human Resource Management is the world's largest HR professional society, representing 300,000 members in more than 165 countries. For nearly seven decades, the Society has been the leading provider of resources serving the needs of HR professionals and advancing the practice of human resource management. SHRM has more than 575 affiliated chapters within the United States and subsidiary offices in China, India and the United Arab Emirates. For more information about SHRM, visit the organization's website at www.shrm.org.
* * * *
Joseph E. Santucci, Jr. Recognized By Best Lawyers In New England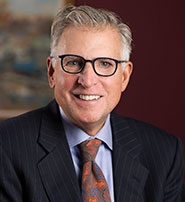 Schwartz Hannum is pleased to announce that Senior Counsel Joseph E. Santucci, Jr. has been recognized by Best Lawyers in New England as a 2019 "Best Lawyer" in the categories of Employment Law - Management, Litigation - Labor & Employment, and Labor Law - Management.
A nationally-renowned labor law attorney, Joe has extensive experience advising clients with collective bargaining, labor counseling and litigation, and arbitration. Joe has been selected for inclusion in Best Lawyers for almost 20 years at local, regional, and national levels.

Best Lawyers is the "oldest and most respected peer-review publication in the legal profession," and recognition is widely regarded as a significant honor conferred on a lawyer by his or her peers.

Congratulations, Joe!
* * * *
Schwartz Hannum PC Welcomes Attorney Rachel Adams Ladeau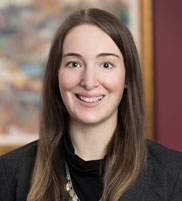 Schwartz Hannum PC is thrilled to announce that Rachel Adams Ladeau has joined the Firm's Labor and Employment and Education Practice groups.

Rachel assists employers with all aspects of labor-management relations, including collective bargaining agreement negotiation and administration, as well as labor arbitrations and unfair labor practice charges. Rachel also counsels employers in all other areas of the employer/employee relationship and regularly handles employment litigation and administrative agency claims.

Before joining Schwartz Hannum PC, Rachel practiced labor and employment law at McLane Middleton in Manchester, NH, and at the Washington, DC office of Morgan, Lewis & Bockius LLP.

Rachel received her J.D., with high honors, from George Washington University Law School in 2013, where she was a member of The George Washington Law Review and a Dean's Fellow, and was elected to the Order of the Coif. She received her B.A. from Pomona College in 2007.