Schwartz Hannum PC Recognized As A "Best Law Firm" In U.S. News-Best Lawyers® 2019 Rankings
Schwartz Hannum is pleased to announce it has been ranked in the 2019 "Best Law Firms" list by U.S. News & World Report and Best Lawyers® for the third year in a row. The Firm was recognized in the following practice areas for Boston:
Labor Law - Management (Tier 1)

Employment Law - Management (Tier 3)

Litigation - Labor & Employment (Tier 3)
Firms included in the 2019 "Best Law Firms" list are recognized for professional excellence with persistently impressive ratings from clients and peers. Achieving a tiered ranking signals a unique combination of quality law practice and breadth of legal expertise. The 2019 rankings are based on the highest number of participating firms and highest number of client ballots on record.

Schwartz Hannum PC would like to thank its clients and entire team for continually striving for excellence.
* * * *
Sara Goldsmith Schwartz and William E. Hannum III Named To 2018 Super Lawyers® List - Sarah H. Fay Named To 2018 Rising Stars®
Schwartz Hannum PC is thrilled to announce that three attorneys have been named to the 2018 Massachusetts Super Lawyers® list, and two have been named to the 2018 Massachusetts Rising Stars® list.

Sara and Will have been selected for inclusion in the 2018 Massachusetts Super Lawyers® list in the area of Employment & Labor Law. They were first acknowledged by Super Lawyers® in 2004.

Sarah has been selected for inclusion in the 2018 Massachusetts Rising Stars® list. She was first acknowledged by Rising Stars® in 2017.

Schwartz Hannum PC is proud of its Super Lawyers® and congratulates each of them on this achievement. We also extend our congratulations and gratitude to the entire Schwartz Hannum team for their part in this achievement through their continued hard work and excellent client service!
* * * *
Sara Goldsmith Schwartz Sworn Into Supreme Court
Sara Goldsmith Schwartz recently joined fellow members of the Harvard Law School Alumni Association in a special group admission to the Bar of the Supreme Court of the United States in Washington, D.C.

Sara participated in a swearing-in ceremony and a lecture about the Court, the history of the building, and the architecture of the courtroom. The group also visited with Associate Justice Ruth Bader Ginsburg.

Congratulations, Sara!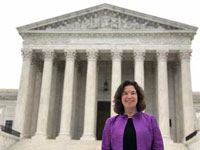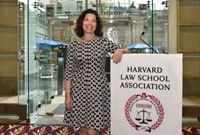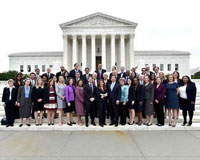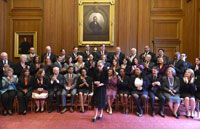 * * * *
Matthew D. Batastini Named Partner Of Schwartz Hannum PC
Schwartz Hannum PC is thrilled to announce that Matthew D. Batastini has been named a partner of the Firm. Matt's practice focuses on representing employers and educational institutions on all aspects of the employment relationship.

He routinely represents clients in state and federal courts and before agencies including the EEOC, MCAD, NYSDHR, DOL, OSHA, and NLRB. He has defended clients against claims involving discrimination, hostile work environments, whistleblowing, wage and hour laws, trade secrets, breach of non-compete or other restrictive covenants, and executive compensation.

Matt counsels the Firm's education clients on a broad range of issues including crafting and implementing policies and practices applicable to students, employees, and the larger school community. He has conducted investigations for and regularly counsels education clients with respect to the investigation of and response to allegations of employee and student misconduct, including preparing and making mandatory reports.

Before he joined the Firm, Matt spent four years as an associate attorney at Proskauer Rose LLP in its New Jersey and Boston offices. Prior to his time at Proskauer, Matt was an associate with Edwards Angell Palmer & Dodge LLP (now Locke Lord) in Madison, NJ for five years. Matt graduated from Middlebury College with a B.A. in Economics in 2003 and received his J.D., magna cum laude, from Seton Hall University School of Law in 2006.
* * * *
Sara Goldsmith Schwartz And William E. Hannum III Recognized In Chambers USA 2018
Sara Goldsmith Schwartz and William E. Hannum III have been recognized by Chambers and Partners USA as leading attorneys in labor and employment law in Massachusetts. This is the thirteenth consecutive year that Sara has been honored, and Will's sixth year being acknowledged by Chambers.

The Firm is also thrilled that Chambers USA has listed Schwartz Hannum PC as a "Noted Firm" in the Labor & Employment - Massachusetts practice area.

In 2018, commentators describe Sara as "a very good counselor and a gifted presenter." "She listens well," says a client.

The rankings, which are determined by a rigorous process that includes a detailed written submission by the Firm and in-depth, objective research and interviews, were published in the recent Chambers USA 2018 guide. Chambers and Partners publishes guides worldwide, and has been a recognized leader in its field since 1990.
* * * *
Schwartz Hannum PC Welcomes Vaughn Abraham, Director Of Finance
Schwartz Hannum PC is thrilled to announce that Vaughn Abraham has assumed the role of Director of Finance.

As Director of Finance, Vaughn Abraham oversees all financial aspects of the Firm. Vaughn earned his Bachelor of Science degree with a concentration in Accounting & Finance, as well as his MBA, from Babson College, Wellesley, MA. He earned his J.D. from New England School of Law, Boston, MA.

Vaughn has over 20 years of financial, legal, technology and operations experience. Before joining Schwartz Hannum PC, he held positions at Harvard University in Cambridge, MA, and at Goodwin Procter in Boston, MA.