News
Joseph E. Santucci, Jr. Quoted In BusinessInsurance.com Article About The NLRB
Joseph E. Santucci, Jr. was quoted in "Pro-employer bent seen with NLRB's new GOP majority" on the BusinessInsurance.com website.

The April 24, 2018 article explores NLRB rulings that may be reversed after the approval of John F. Ring as the Board's new chair.

To read the complete article, click here.
* * * *
Schwartz Hannum PC Welcomes Attorney Kirsten B. White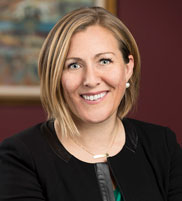 Schwartz Hannum PC is thrilled to announce that Kirsten B. White has joined the Firm's Labor and Employment and Education practice groups.

Kirsten represents employers and educators in all aspects of labor and employment law and advises them with respect to collective bargaining and matters arising under the National Labor Relations Act (NLRA) and the Railway Labor Act (RLA). She represents clients in collective bargaining negotiations, proceedings before the National Labor Relations Board (NLRB), and labor arbitration proceedings, and counsels clients in connection with all aspects of labor-management relations and collective bargaining agreement administration. Kirsten actively assists clients in the development of proactive policies and practices designed to foster labor-management relations and minimize the potential for labor disputes that could harm a client's operations.

Kirsten has significant depth and breadth in advising employers with respect to the Uniformed Services Employment and Reemployment Rights Act (USERRA), and in the design and implementation of effective and compliant veteran hiring programs.

Before joining Schwartz Hannum PC, Kirsten was an associate at Morgan Lewis in its Boston, MA and Washington, DC offices.

Kirsten served as the policy director to Second Lady Dr. Jill Biden from 2009 to 2013 in the Office of the Vice President of the United States, and as a clerk on the U.S. Senate Judiciary Committee staff of Senator Russell D. Feingold (D-WI). In these positions, she developed considerable domestic policy knowledge in the areas of veterans and military families, education, workforce training, and women's health.

She is a 2000 graduate of Middlebury College, and earned her J.D. from the University of Pennsylvania Law School in 2007.
* * * *
Schwartz Hannum PC Welcomes Vaughn Abraham, Director Of Finance
Schwartz Hannum PC is thrilled to announce that Vaughn Abraham has assumed the role of Director of Finance.

As Director of Finance, Vaughn Abraham oversees all financial aspects of the Firm. Vaughn earned his Bachelor of Science degree with a concentration in Accounting & Finance, as well as his MBA, from Babson College, Wellesley, MA. He earned his J.D. from New England School of Law, Boston, MA.

Vaughn has over 20 years of financial, legal, technology and operations experience. Before joining Schwartz Hannum PC, he held positions at Harvard University in Cambridge, MA, and at Goodwin Procter in Boston, MA.